Any lender that has ever originated a construction loan knows they are highly complex. First, they are regulated at both state and federal levels. Second, they are also complicated by multiple stakeholders including contractors, subcontractors, and borrowers. And this is all just for one loan. Take this workload and multiply it to an entire portfolio across a department and it can all feel a little unwieldy. However, we know this doesn't have to be the case because even the heaviest workload can be managed if the correct tools are used.
Do you have the right tools in order to create successful, stress-free construction loans?
In this blog post, we'll go over the key tools the best construction loan manager must have to help you work faster and more efficiently. Second, we will cover the specific tools that benefit your workflow during pre-close due diligence and the draw management phases of the loan.
Digital Construction Loan Technology Solutions
It all starts with embracing digital solutions. Spreadsheets are no longer a viable option for construction loan management as far as modern, digitally-minded consumers are concerned. Pulling important information into the digital realm makes things faster and increases accuracy, visibility, and speed.
The vast amounts of data that come with managing construction loans can also be effectively managed with a digital construction loan solution. Cloud-hosted technologies also allow for easy access by stakeholders when it comes to draw requests and inspections necessary to keep the loan on track. To effectively maintain data and relationships long term, we believe it is critical you utilize a dynamic and comprehensive platform to gather and organize this vital loan information.
We recommend finding software that provides you with these tools:
1. Digital Construction Loan File Set Up
Less time is wasted through the loan setup process when utilizing a digital construction loan manager compared to a manual process. Digital process help maintain accuracy in documents by auto-filling fields after the initial setup is completed. While manual input is still necessary in the first stages of the loan, this information is usually stored for future use in documents like draw requests. Overall, cloud-based solutions save hours during the life of the loan before and after closing.
2. Construction Loan Project Milestone Tracking
Construction lending has many more milestones than other loan products. These milestones must be tracked which is why we believe this tracking ability is imperative for any digital construction loan management solution. Milestones you don't want to get lost in a spreadsheet or other manual process include:
Welcome letter
Completion dates
Permitting
Insurance
Title
State Statutes
Laws
Disbursement information
Inspection order
Inspection review
Digital solutions allow construction loan managers to get ahead of the game instead of treading water.
---
Read: How To Digitize Your Construction Loan Process To Meet Modern Borrower Expectations 
---
3. Digital Construction Lending Partner Integrations
Integrations with other technologies are key to streamlining construction loans. If a solution can't communicate with other vendors (document management services or e-signature providers for example), then the solution is only a half-step above pushing paper because ultimately copy/pasting information from one system to another wastes valuable time and leaves room for human error.
4. Construction Loan Reporting
Report on the intermediary steps of the construction loan processes and the final reporting is imperative to ensuring a successful construction loan.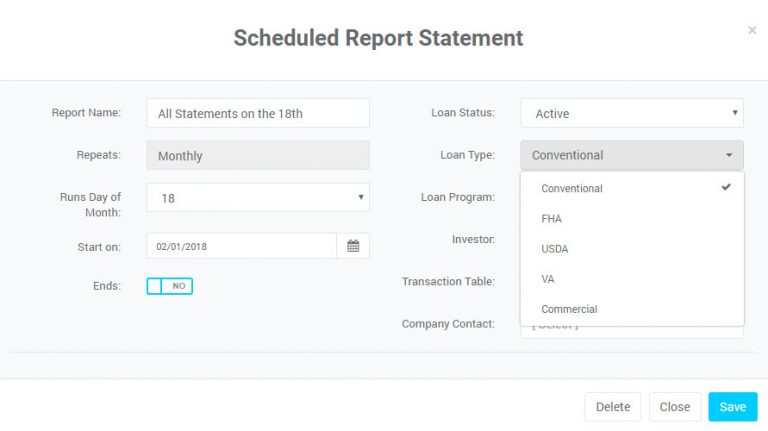 Construction Lending Tools For Tracking Your Contractors
We can't stress enough the importance of having comprehensive and standardized tools and procedures to address and control the key risk factors when navigating contractor acceptance.
So, in order to aid all of you and any interested partners who may be looking to develop a contractor acceptance process, we offer our contractor acceptance toolkit as a free resource for you to utilize.
Within this toolkit you'll find a contractor acceptance checklist outlining various documents that we believe play a vital role in telling the story of a builder's ability to deliver a complete build in a timely manner.
You will also find our sample contractor questionnaire in this toolkit. This segments the various factors of the builder's experience which we believe should be researched and examined closely to help determine whether or not the individual or business has the experience and skill to build a proposed project.
Other than this toolkit, we also know that technology can help streamline contractor acceptance. Here's a list of essential tools you need to effectively track your contractor acceptance process:
1. Scalable Contractor Database
Whether you work with 5 contractors or 100, you need a database that can easily grow with your business. A great solution links each contractor to the loans they are connected to and grants user access with a few clicks. Solutions like this beat a spreadsheet any day.
2. Dynamic Contractor Acceptance Status Indicators
Ever forget which contractor you've previously accepted? Or, when you had accepted them? Look for a solution that will allow you to quickly view a full list of your contractors, as well as their current status, contact information, and project activity.
3. Visibility into Construction Project Concentration
Managing multiple loans leads to vetting dozens of builders and contractors. Any solution worth your time and money allows you to see a contractor's work history. This allows you to infer which contractors are more at risk of project delays because you have visibility into how many projects they are currently associated in your system. Great solutions also allow you to see how many they've completed successfully, or not.
4. Secure Contractor Document Center
Look for solutions that store critical documents such as licenses, insurance, permits, and expiration dates, and set reminders before they are due!
5. Contractor Payment History
Having a single system to record when payments have been made will save you time and the hassle of running multiple programs or sending the dreaded request for information to another department.
Conclusion
Of course, we're partial to one particular construction loan software solution because we know they're not all created equal. There are a handful of options available on the market, but we know for a fact that Land Gorilla's Construction Loan Manager is scalable, offers dynamic tracking indicators, gives you clear visibility into your portfolio, enables you to store critical documents such as licenses, insurance, permits, etc., and can help you manage contractor information including the projects they're committed to ensuring visibility for you and ultimately your borrowers, too. While migrating to a digital solution is up to you, we believe it is incredibly difficult to manage a full portfolio without such a tool.
---
Continue Reading: How To Digitize Your Construction Loan Process To Meet Modern Borrower Expectations