April 17, 2018
THE TRUSTED MORTGAGE INDUSTRY NEWS SOURCE PUTS CONSTRUCTION LENDING TECHNOLOGY LEADER ON ITS ELITE LIST FOR 2018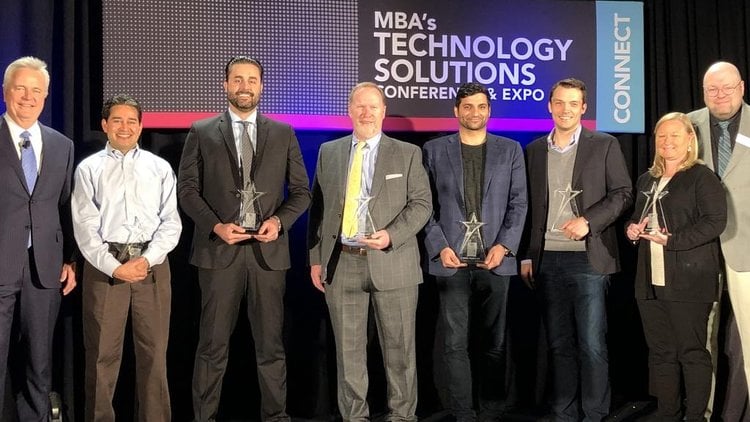 San Luis Obispo, CA—Sean Faries, CEO of Land Gorilla a technology company, based in San Luis Obispo, that offers the top platform empowering construction lenders to securely streamline the loan management process from start to finish, today found himself sharing the stage with 5 other company leaders to receive the MBA Insights 2018 Tech All-Stars award. The Mortgage Bankers Association and MBA Insights honored these six industry innovators with this award at the MBA Technology Solutions Conference & Expo in Detroit.
"Technology is driving remarkable innovations and efficiencies in real estate finance," said MBA Vice Chairman Brian Stoffers, CMB. "MBA is pleased to recognize the men and women making significant technological contributions to the mortgage industry."
Since 2002, the MBA Tech All-Star Awards have celebrated industry leaders who have made outstanding contributions to mortgage lending through technology. MBA Insights accepts nominations for the Tech All-Star Awards in December and January of each year. A record 40 technology innovators were nominated this year.
For 2018, MBA and MBA Insights honored six mortgage technology innovators:
Rajesh Bhat, Co-Founder and CEO, Roostify
Sean Faries, CEO, Land Gorilla
Harry Gardner, EVP of eStrategies, Docutech
Nima Ghamsari, CEO and Co-Founder, Blend
Pat Kinsel, Founder/CEO, Notarize Inc.
Wendy Peel, Vice President of Sales and Marketing, ReverseVision
"This is truly an honor to be among these top innovators in mortgage lending," said Faries, "and on behalf of the Land Gorilla family, I thank the MBA for the recognition of our hard work."
Land Gorilla has previously gained recognition as one of the fastest growing software companies in the United States. Its technology platform empowers construction lenders to manage risk more efficiently using a complete tool set including: construction loan draw management, inspection automation, accounting and reconciliation system, servicing tools, and contractor portal.